Club Challenge is a PvE (Player vs Environment) event for Clubs, with a chance to win Club Points and enhancement material. It is held twice a day and runs for 30 minutes each. Announcements will be made 30 minutes before it starts, and you can always check the Event Board for specific times.
Players enter a specially designated area and kill Mobs. Harder mobs give more points, and all points gathered by a club member goes into their Club's total score.
The challenge is held at 3 places:
Beginner C.C.: for levels up to 30.
Amateur C.C.: levels 31 - 52.
Players can either use the Pilots or click the enter icon in the Event Board next to the Club Challenge event (will cost a fee). A ticker will run at the upper corner of the screen with scores of the top 10 clubs and is visible to the whole server.
The Club with the highest score wins. The top 10 Clubs get a reward that is given out afterwards via the
mail system
to each club member. The number of Club Points and enhancement material rewarded depends on what position the Club finished at, with 1 being the highest.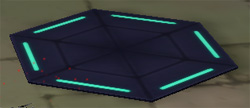 Be warned that PvP will be active in these maps so it's possible to kill or be killed by other players. Only members of the same club, or any clubs within the same alliance, can not attack each other. Killing other players will not yield points.
There are safe points (shown right) where PvP is disabled. Mobs, however, can continue to attack even if a player is standing on the safe point.
Community content is available under
CC-BY-SA
unless otherwise noted.