Important Annoucement!!!
Remnant Knights will be shutting down on Jan 31, 2014 at 11:59pm PST which is 2:59am EST. You can read more about RK's shut down by clicking here! The Remnant Knight wiki will remain here to serve as a memento of all the RK's players work that they contributed to the wiki to help new players. This is a farewell from Remnant Knight Wiki and we wish you all the best!
About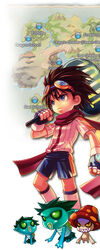 Remnant Knights is a free to play, casual MMO for teens and the young at heart. Come join with your friends, as students of either Owl or Dragon Schools, and fulfill your destiny as one of the mighty Knights of Kasmari!
Contents
Featured Video
Featured Poll
What do you think of this game?
Blogs
Create blog post
Hi there, I'm pypski, I'm a tank. It's what I do in games I play. This is a little crasher guide. Take it or leave it.

Crash into me




As a crasher your focus should be Defense and HP (Health). Thus, bec…

Read more >
See more >
Featured Photos